Dreams sometimes come true.

---
On Jan. 4, 2000, I bought Pelago. She is a 1965 Columbia 40, hull# 10.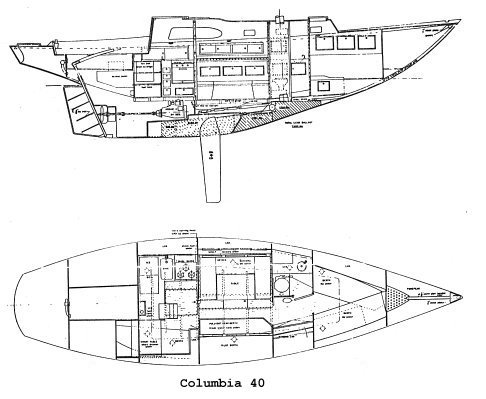 It was hard enough to believe that I owned a boat when I got

in the summer of 1997. Buying Pelago was beyond my wildest dreams.
This is both the end of a beginning and the beginning of an end. If it's true that a man can't serve two masters, then clearly he can't serve two mistresses. Thus it is the beginning of the end of my tenure as Binary's owner.
But it is the end of the beginning of my association with Pelago.
I first saw Pelago in pictures. Charles Hershey bought her in Connecticut in early 1999 and sailed her down to Northeast, Maryland, on the Chesapeake Bay. He made the trip in two legs with a layover in between at Capt'n Jim's off Barnagat Bay, NJ. Here is a shot of Pelago taken by Capt'n Jim in Barnagat Bay.
Charles sailed her through the summer. One weekend he and some friends sailed their boats down to Shaw Bay on the Wye River to do some crabbing and he invited me to meet them over there. I got a late start and there was little wind. I was finally heading up the Wye as a magnificent boat came out of Shaw Bay. It was Pelago.
I swung around. We talked for a minute as we sailed along together. There were no crabs and Charlie's friends wanted to go to Rock Hall. I was ready to drop the hook and relax after my long sail. Pelago disappeared into the Eastern Bay.
You can imagine my surprise when I got the email from Charlie in the fall asking me to put a For Sale ad on the website. Charlie and his wife bought some land and wanted to build a new house. After less than a year of ownership, Pelago was on the block again.
I posted the ad. Then it struck me:
I COULD AFFORD THE BOAT!
I contacted Charlie. Amazingly it took three months to complete the deal, but it finally happened.
Pelago sat on the hard at the top of the Bay. I spent the next couple of months getting her ready for the trip to her new home behind Pirates Cove in Galesville.
Pelago and my crew and I made the trip to Galesville without incident and I spent a grand summer sailing around the Bay. Below are links to more about Pelago.
Eric and Dave's Excellent Sailing Adventure - 2000
Eric and Dave's Vacation - 2001
Different Strokes - Memorial Day 2002
Sealing the Hull to Deck Joint
"Gonna buy five copies for my mother..."
Rehabilitating the Centerboard 2003
Checking Out Seabirds at Casa Keers.
On Aug. 9, 2006, I sold Pelago to Don and Jen Savedge. May fair winds be their constant companion. Jackie and I now sail the Dickerson 41, Compass Rose.
October 2007. Charles Hershey contacted me. His name is familiar to you because he sold Pelago to me. In a strange turn of events, he bought Pelago from Don and Jen Savedge. He is now keeping her on Bodkin Creek, MD.