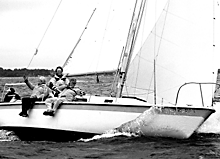 By David Gendell - The Capital
Checkmate captured the Handicap Fin Keel Class and then its crew hosted the post-race party.
With one more week of good breeze, this time from the northeast, the third annual Good Old Boat Regatta came to a conclusion on Saturday with its second and final race.

Open to any boat type for which the first hull was produced before 1975, the event is sponsored by Shearwater Sailing Club and Good Old Boat magazine and this year drew a record 53 entries competing in several one-design and two handicap divisions.

The turnout for the second week was somewhat lighter than for the first, but the Tritons and Cal 25s, both racing under CBYRA sanction for High Point, remained strong, as did the Catalina 27s, Tartan 37s, and handicap divisions. The Tartan 30 class evaporated from five the first week down to one on Saturday, but Gene Gottschalk and his Miranda crew gamely joined the Fin Keel Handicap class in order to have someone to play with, and finished strongly in second place behind post-race party hosts Bob and Cindi Gibson and the crew on their Cal 2-30 Checkmate.

Once again the strong ebb current-- running on Saturday at nearly a knot, according to instruments on the anchored committee boat -- proved to be an important factor, and many of the winners were in the lead of their respective classes by the first mark as those who had stayed on the western side of the layline fared far better than those who had lingered too long out in the deeper water near the center of the Bay.

Triton sailor Dave Hoyt led his Overdraft team to victory in both races of the two-week series, earning the award for best performance by a CBYRA racer.

The trophy for best performance by a new racer, as well as the Good Old Boat Magazine Perpetual Trophy went to Mike Cahall, who also won both races of the series with his Bristol 40 Too Tuna.

"What a trip," said Cahall, as he thanked the regatta organizers and sponsors. "We had such a great time, and I never would have considered racing the boat without this regatta."

One of the regatta's other special trophies, for the oldest boat participating, went to Bill and Mary Blazina's 1963 Alberg 35 Dream Catcher, also racing in the Full Keel handicap class.


Good Old Boat Regatta (Oct. 12)

Triton
(4 boats):

1. Overdraft, David Hoyt, RRBC

2. Sea Deuce, Eleanor Holmes, RRBC, +0:02:56 e.t.

3. Pylasteki, Jim Schwartz, RRBC, +0:05:50 e.t.



Cal 25
(6 boats):

1. White Cap, Tim Bloomfield, AYC

2. Chicken Little, Charlie Husar, SSC, +0:02:53 e.t.

3. L'Orange, Tom Corboy, AYC, +0:03:31 e.t.



Catalina 27
(6 boats):

1. Four Little Ducks, Tom Walsh, AYC

2. Hi Tide, John Ebell, SSC, +0:00:33 e.t.

3. Jolly Mon, J & J Richards, EYC, 0:00:42 e.t.



Pearson 30
(2 boats):

1. St. Somewhere, Hagler/Ellwood, EYC/AYC

2. Irish Mist, Roy Ericson, +0:00:17 e.t.



Tartan 37
(6 boats):

1. Reflections, T. Sensenbrenner

2. Pelican, D & M Garner, +0:00:14 e.t.

3. Laura T, Lynn Nye, +0:04:42 e.t.



Handicap Fin Keel
(8 boats):

1. Checkmate (Cal 2-30), Bob & Cindi Gibson, 0:46:14 c.t.

2. Miranda (Tartan 30), Gene & Cindy Gottschalk, 1:01:59 c.t.

3. Killick (Cal 34), John Berens, 1:02:24 c.t.



Handicap Full Keel
(5 boats):

1. Too Tuna (Bristol 40), Mike Cahall, 1:00:36 c.t.

2. Dolce Vita (Cheoy Lee 40), Audrey Ross, 1:14:56 c.t.

3. Pelago (Columbia 40), Eric White, 1:19:51 c.t.

Back to Weekend One.