Columbia 45 Specifications
---
Manufactured by:
Columbia Sailing Yachts
The Columbia 45 was one of two center cockpit motorsailors. The other was the Columbia 41. The Columbia 45 was available with either a full keel or a shoal draft keel. Both sloop and ketch sail plans were available.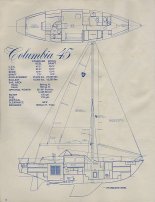 Columbia 45 standard keel sloop.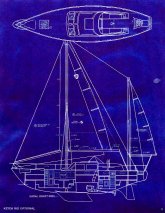 Columbia 45 shoal draft ketch.
A separate, independent helm in the salon was an option installed on a few boats. Here is a picture of the salon on Tardis. You can see the helm station. The wheel is removed while in port.
The following information came from a Columbia brochure which included the C-45 (circa '74):

                  Standard          Shoal
                  Keel              Draft
LOA               45'3"             45'3"
LWL               34'6"             34'8"
BEAM              12'4"             12'4"
DRAFT              7'3"              5'3"
DISPLACEMENT    25,000 lbs        27,000 lbs.
BALLAST         10,300 lbs        12,300 lbs.
SAIL AREA
   Sloop                 694 sq. ft.
   Ketch                 780 sq. ft.
OPTIONAL POWER            85 HP Perkins 4-236 Diesel with 2.57:1 reduction gear
WATER                    120 gal
FUEL                     132 gal
VERTICAL CLEARANCE      50'9"
DESIGNER                Wm Tripp
Literature available from Justin Thompson.
Doug Ward, former Columbia employee and current Columbia 45 owner writes:
The standard original prop on the Columbia 45 was a 20" X 13 pitch LH three blade . The standard engine was a Perkins 4-107 (45 hp) or 4-108.(50 hp). The optional engine was a Perkins 4-236 (85 hp). The std prop on the 85 was a 13" pitch or an optional 14" pitch. A few of the last 45's built had an optional 6 cyl (100 hp) Chrysler Nissan diesel. I think that happened because of a shortage of Perkin's. They all used a 1 1/4" shaft.
Our 45 has the 85 hp Perkins. When we got it, it had a 13" pitch prop. Coming down the California coast last April, we motorsailed with just the 150% genoa & averaged 9 to 13 kts. Ran the engine at about 2/3rds max RPM. (tach broken) When we hauled out last August, I changed to a 14" pitch prop. So far, it almost seems to be a little too much pitch. We haven't run it very much since then so I'm still a little undecided about it's performance.
Doug also tells how to remove a fuel tank.
Keel Notes. One owner writes:
The iron keel is fastened to the hull by steel bolts that go through the fiberglass hull first, then through the plywood sandwich, then through more fiberglass and is braced on the inside by a steel channel bedded onto the hull by marine putty. Then the nuts are attached with more putty. I have hull number 29 of 150 out of the Portsmouth, Va. plant. It was built in 1971-72 actually as a 1972 model sold at the Annapolis Boat Show. This plywood panel which runs the length of the keel and is about 2ft. wide, is the only wood in the entire hull.
Another owner follows-up:
Hi, I own a C45, 1972, out of Costa Mesa. I believe what you say is correct except for the putty stuff. What was used was a marine grade epoxy that glued the hull to the keel. It is almost impossible to remove without destruction of the hull. I do not know of any keel to hull separation for a C45, either intentional or accidental.
The following is a note from Jim Edwards:
On close inspection of the C45 out of the water you will find that the propeller is slightly off-set from center toward the starboard side of the boat. This allows for the removal of the shaft and propeller past the rudder's protective strut. However, what this means is that when backing up the C45 moves to starboard, and when powering forward from a dead stop the bow wil move to starboard. Rudder position does help at times but it is only after one becomes one with their C45 that is works well. At this point I am still learning but I now finding backing in and out of the slip to be the same as driving in. And here's a note from Mike Waters & Les Rees:
We have owned Ichi, a Columbia 45 hull number 150 since 1993. We lived aboard from 1994 until Dec 2000 and sailed her from Florida, around the Carribean and across the Pacific. She is now in dry storage in a boatyard just north of Brisbane Australia as we build up our funds to go out again!
I know of two other Columbia 45's in Australia, both sailed there and imported so they are now registered in Australia.
By the way, Ichi has proven to be one of the best "bluewater" boats around, rather slow but TOUGH!
We lost the forestay 200 miles out of Australia in 30 knot winds and went almost 4 hours before we could rig an emergency forestay that stayed up.
The mast and cabin sustained NO damage! We lost the roller furling unit and the headsail, but felt really lucky that was all that happened.
Another C-45 (in Puerto Rico) was driven ashore in hurricane Hugo (1988) bounced off a concrete dock, and ended up on top of a house. The hull was still sound when she was lifted off! (The interior was flooded from the rain though)
Ichi has been an extremely "dry" boat, we have NEVER had a wave in the cockpit, only spray even with 10ft of "blue water" over the bow!
We have had a "pooping" (following) wave that was over 60 degrees up from the helmsman's seat and the stern just rose over it! The stern did go underwater that time, but it never got as far as the cockpit.
Anyway, feel free to share this and email us for more if you are interested :-)
Mike & Les