Is this the same boat?
Man rescued after 4 months at sea
From Charles Feldman (CNN.com 9/25/2002)

LOS ANGELES, California (CNN) -- A man who says his crippled sailboat was adrift at sea for almost four months was rescued by a U.S. Navy frigate off the coast of Costa Rica last week, the ship's commander told CNN.
Cmdr. Gary Parriott said 62-year-old Richard Van Pham was spotted by a military aircraft on narcotics patrol September 17. The 24-foot sailboat appeared battered and broken, and Parriott said his crew was stunned when Van Pham appeared and waved at the frigate.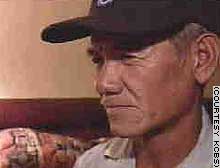 Richard Van Pham
Van Pham told crew members of the Navy frigate McClusky that he had set out for a brief trip between Long Beach and Catalina Island, some 23 miles off the southern California coast, when high winds broke his mast. His radio, he said, failed to work and he found himself adrift.
According to Parriott, Van Pham survived by eating fish he caught, as well as a few seagulls. He drank rainwater collected in a bucket.
Van Pham appeared to be in generally good health, Parriott said.
Parriott said Van Pham told him that he only passed one other ship in the entire 3 1/2-month period, but it was too far away to signal.
Parriott said Van Pham told him he had come to the United States from Vietnam in 1976 and lived on his sailboat in Long Beach harbor.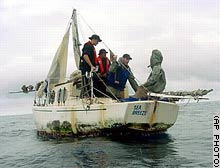 In this U.S. Navy photo, sailors from the McClusky speak to a parka-wearing Van Pham, right, aboard his sailboat after he was found adrift.
The boat was so badly damaged that it had to be sunk. Parriott said Van Pham, apparently an accomplished sailor, was clearly upset that he would no longer have a place to live once he returned to the U.S. mainland.
The commander said his crew collected $800 to pay for an airplane ticket for Van Pham back to the United States.
Van Pham was turned over to U.S. State Department officials in Guatemala for processing. Upon his arrival at the Los Angeles International Airport, he was briefly detained by Immigration and Naturalization Service officials but was let go when his "green card" checked out.
He is now in the care of a charity organization in Los Angeles.