Columbia Power Yachts
---
There was a stretch during the mid-60s when Columbia made power yachts. Information for these boats is a litte hard to come by, but I have some. The first was the Express 30. An ad I have describes it as "an all-fiberglass express cruiser, sleeping six, that is competitively priced with stock wooden cruisers. Superb performance, spacious comfort in a fun-loving family boat. First in a power line that will include 36 ft. and 42 ft. models."

Dick Valdes said that there were 167 Express 30s made between 1964-66, but the 36 and 42 were never produced. After that the hull mold was sold to Luhrs.

Meridian 48-The hull mold was not made by Columbia, it was purchased from some failed company. I do not remember what the name was but they were located in Santa Ana, California. I will research and see if I can find out who build the hull mold and did the design. Columbia built an interior mold and also a stock deck mold. All of the engineering was done for the stock boat and 1 (maybe 2) were built in Costa Mesa. There was also one built with flush deck single engine work boat configuration, it was designed to be a Gulf shrimper or as a commercial trawler fishing boat for Mexico. There was some connection with people in Mexico for commercial boats but I do not know what it was. It was determined that Columbia was not the "right" builder for the boat and it was shipped off to Bertram/Trojan another division of Whittaker. As I recall the I.D. logo for the Meridian was "Meridian 48" in "arched chromed script" about 3 inches high and 18 inches long. Kelly can probably supply some more information, he would also probably remember some of the early power boats.

I do have some specifications on the Express 30. They were provided to me by Ross Hollinger, who is refurbishing one.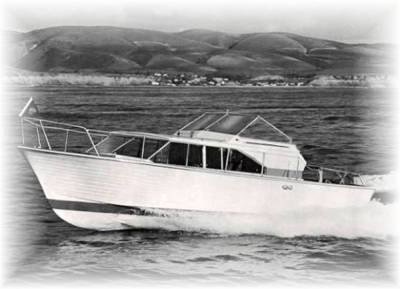 Columbia Express 30 Sport Fisher Specs

       Length:  30 feet
         Beam:  10.5 feet
        Draft:   3 feet
       Weight:  Approximately 11,000 lbs
      Engines:  Twin Crusader 305's (GM) 
Transmissions:  Borg-Warner VelvetDrive AS1-71C; Gear Ratio - 1:1
  Years Built:  1964 - 1966
  Number Made:  167
  Designed By:  Blaine Seeley
  Price (New):  $12,995.00 

Info from a Columbia Marine Engines Operator's Manual:

model    displacement   power    carb
Col-185,  283 cu in,   185 hp, 2 barrel
Col-220,  327 cu in,   220 hp, 4 barrel
Col-250,  327 cu in,   250 hp, 4 barrel
Col-280,  409 cu in,   280 hp, 4 barrel

Transmission info is size and reduction ratio:
AS2-70C  AS2 = 1.52:1 reduction, 70=model 70 with C spline
Warner transmission codes:
AS1=direct drive
AS2 1.52:1 reduction
AS4 2.54:1 reduction
AS5 2.91:1 reduction
AS7 1.91:1 reduction

MODEL
Col-185
Col-220
Col-250
Col-280
Engine Type
V8
O.H.V.
V8
O.H.V.
V8
O.H.V.
V8
O.H.V.
Displacement
283
327
327
409
Horsepower at R.P.M
185@4000
220@4000
250@4000
280@4000
Compression Ratio
8.6:1
8.0:1
8.6:1
7.8:1
Fuel Requirements
Regular
Regular
Regular
Regular
Carburetion
2-barrel
4-barrel
4-barrel
4-barrel
Info from a couple ads: Aug '63 ad lists a twin 185 hp V8 option for $9,995. July '64 ad talks about a single Fury 210 hp Chrysler V8 and optional twin 190s. It then states 210 hp Chrysler V8 $10,995 (Twin Option)
Ross tells me that Dick Valdes told him that Columbia eventually sold the power yacht molds to Luhrs.