Here is a new 26 footer, more spa-
cious, more comfortable, and more
seaworthy than most 30 footers.
The workmanship i smagnificent,
and the accommodations are well
planned for cruising and racing.
THERE ARE 4 FULL LENGTH
BERTHS, A SPACIOUS GAL-
LEY AND OVER 6 FEET OR
HEADROOM THROUGHOUT
THE MAIN CABIN.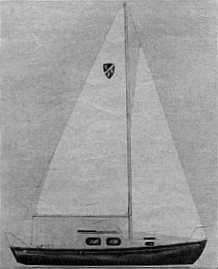 The hull design, constructed the
superior Glas Laminates way, is
most seaworthy and highly stable
because of its generous beam and
ballast. Her high freeboard makes
the hull dry and comfortable in
heavy seas. Her hull form has been
tested under actual racing condi-
tions and was proved to be excep-
tionally fast. She will win races by
a generous margin.
Price Outboard model with flush
fitting watertight plug: $6500.00
F.O.B. Cost Mesa, California. IN-
board Model available at moderate
extra cost. Order now for prompt
delivery.