The Columbia - Coronado Story
Well, at least a start...
---
11 March 1998. Some 30 years ago, Columbia acquired Coronado Yachts, merged them with the Columbia operation, but continued to produce Coronado brand yachts.
The Unofficial Coronado Web Site
The Coronado part of the Columbia story has taken a back seat to getting information on "pure" Columbia models. But I finally have enough information to start piecing together some of the relationships among the two brands.
Shortly after I started the sight, a visitor reported that he had been on board a Coronado 23T and that it is identical to his '74 Columbia 23T. I wondered how many other models were double-branded? I have seen pictures of a '73 C-28 and a '75 Coronado 28 and they appear to be the same design. I have compared pictures of a '71 C-34 and a '69 Coronado 34 and their masts appear to be stepped in different locations. I have seen listings for a William Tripp designed, center cockpit Coronado 35 produced at least from '71 to '74.
Recently, Carl Buchanan (1971 C-41 Spirit) offered up the following information.
In reading your "Columbia History" it occured to me that the Columbia-Coronado mix has not yet come forward. About 1972 Columbia began to play with their successful hulls. They extended the C-34 hull and created the Coronado 35 center cockpit, the C-43 hull was extended to become the C-45 Motorsailer and the next year the C-39 was extended to be the C-41 Motorsailer and the Coronado 41 center cockpit. If in doubt, simple look at any of the "second generation" hulls, the image of the extension is quite evident!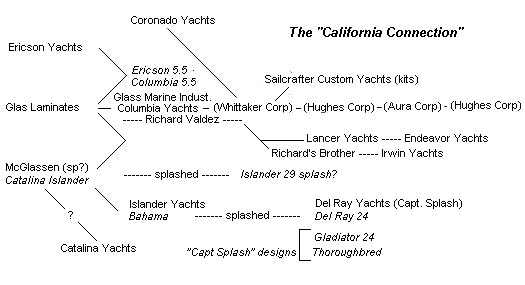 Justin Thompson of MarineInfo & Design, Inc., Winthrop, Massachusetts sent me the following info:
I thought I'd add some input to your history of Columbia/Coronado:
I think it is not fair to tell the history of Columbia without adding in the Lazzara connection. Lazzara was envolved with AeroMarine & Pearson/Grumman Industries in the mid to late 50s - this was his first connection into his long association with boat designing/building, etc. Lazzara owned 1/3 of AeroMarine, which built the 40 Foot Bounty. Grumman bought Pearson and then bought AreoMarine. Lazzara was already comfortable from a previous company - non-boatbuilding related and enjoyed building boats as a passion, first. After selling AeroMarine he joined Dick Valdes & Maurice Threinen, both in there twenties (Lazzara was in his late 40s then). Lazzarra purchased a majority interest in Glas Laminates, renamed it Columbia Yacht Corporation, and went public. He chose Columbia after the America's Cup Challenger - Columbia.
Lazzara sold out of Columbia in 67. Lazzara was forced to sign a non-compete contract for building power/sailboats for 3 years. So three months later he started a houseboat company selling SeaRover - all fiberglass houseboats - Sea Rover was sold to Apeco, 2 & ½ years later, Apeco folded shortly after the sale and Lazzara resold the molds/tooling for the Sea Rover line to Holiday Mansion, which still builds houseboats in Kansas (Holiday Mansion is a division of Mohawk Industries, Inc.) In January of 1970 Lazzarra broke ground on his next company: Gulfstar, Inc., building Motorsailors, Sailboats, Trawlers and Lastly Motoryachts - Gulfstar sold off to Viking in the late 80s. In the early 90s Lazzara's sons started Lazzara Yacht Corporation building large motoryachts.
Other Lazzara Companies: Lazzara Marine Corporation - composite sailboats, custom projects, etc.
Other Columbia Connections:
Whittaker bought Trojan & Bertram after it bought Columbia. Down East Yachts, Inc. - Was started by Bob Poole, an ex-Columbia employee.
Sam L. Morse Company, Inc., builds its Falmouth And Bristol Channel Cutters in the Old Westsail/Columbia Plant.
Morgan Yachts, Inc. - was financed by Lazzara, including his purchasing of several Morgan designs/molds including the Columbia 40. Catalina bouth Morgan in 1983, primarily as its east coast production facitlity, then phasing out Morgan production over the next 10 years to be left with two token designs. The Morgan 38, which is the platform for the Catalina 380/Morgan 38 and the Morgan 45, which has its roots with the Morgan 43. Neither boat is produced in large numbers.
Catalina Yachts, Inc. - Frank Butler left Columbia/Coronado. I think he ran the Coronado division. He was told to scrap a new 22 foot design that was to be introduced as the Corondao or Columbia 22. His orders where to have the molds destroyed. Somehow he ended up with the design which became the Catalina 22 and Catalina Yachts never looked back. Catalina Yachts is also connected to the next company.
Henry McCune manufactured the Carpenter designed Victory 21. He produced some 12X boats before it was sold to Wesco Marine which, in turn, became Coronado under Whittaker (Wesco's transformation to Whittaker is sketchy in my records). The Victory 21 had a sister in the Aurora 21, which had a larger cabin for overnighting. Production stopped around 1970 after nearly 600 were built. Catalina Yachts aquired the rights to the Victory 21 and built it until the early 80's building about 200 more.
Finally, Darin Christensen sent the following information about the Victory 21:
The Victory was designed by Ted Carpenter (or Carpentier, I've seen it both ways) in 1959, but the design is almost identical to the Rainbow 24 sloop designed by Sparkman and Stephens for the Annapolis sailing school.