Columbia 30 Sport Sailor Specifications
---
Manufactured by:
Columbia Yacht Corporation
1048 Irvine Avenue, 252 - Newport Beach, California - 92660 - 714 227-9212
Spring 2003
It's been what, 23 years or so since Whittaker Corp sold Columbia to Hughes and 16 years since production stopped completely? So how can you get a new Columbia 30?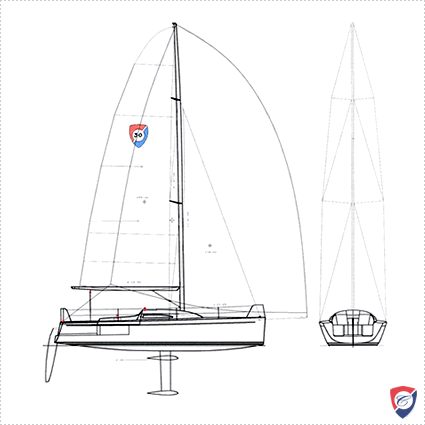 Vince Valdes, son of Columbia Yachts founder Dick Valdes, has been threatening to recreate the company. It finally looks like it's going to happen.
Vince unveiled preliminary drawings today of the new model, the Columbia 30 Sport Sailer. Columbia Yacht's guiding principles in creating this boat are performance, comfort, convenience, and unsurpassed value. Considering the experience the company's principals have, they should know just how to envision AND deliver such a craft.
Designer Tim Kernan (Kernan Yacht Design) describes the special alignment that he has with Columbia Yachts, and with the Columbia 30 in particular: "When client Vince Valdes approached us to design a new 30' sport boat to mark the renaissance of the venerable Columbia marque, we were intrigued. The design brief depicted a kind of boat that really would be unique in the market. Moreover, many of us grew up sailing Columbias, so to be involved in the rebirth of the marque had a special appeal."
Most design details are being held close to the vest pending production of the first hull, but Columbia promises a nicely equipped yacht in the $50-60k range.
Get the whole story at the Columbia Yachts website. Then start saving your pennies.
The following specifications came from a Columbia brochure published in March 2003.



LOA                 30' 0"
LWL                 27' 0"
Beam                9' 6"
Draft (keel down)   7' 0"
Draft (keel up)     2' 0"
SA                  433 sq.ft.
Disp                3400 lbs.
J                   11' 3"
I                   31' 0"
P                   37' 0"
E                   14' 6"
S/D                 30.05
D/L                 77.12
Designer            Tim Kernan

Columbia 30 Sport Sailor sales literature.
Columbia 30 Sport Sailor launch.