Columbia 24 Challenger Specifications
---
Manufactured by:
Glas Laminates/Islander/Glass Marine Industries
This is probably the boat that started it all.
Discovering how and when Columbia Yachts came into being was a fundamental goal of this site. Then Paul Esterle sent an electronic copy from his '78 Columbia 10.7 manual, which included a history of Columbia Sailing Yachts. A day or so later, a fellow named Ed sent his recollections of Columbia's early days. Columbia started as a collaberation between between Glas Laminates and a wooden boat builder ironically named McGlassen (sp?), who wanted to make a glass version of his 24' sloop. The result was the Islander 24. Glas Laminates' role was primarily to produce decks and hulls and McGlassen's company assembled the boats. The original plug had a planked hull, but Glas Laminates made or modified a smooth mold from which to produce boats. The result was the Challenger.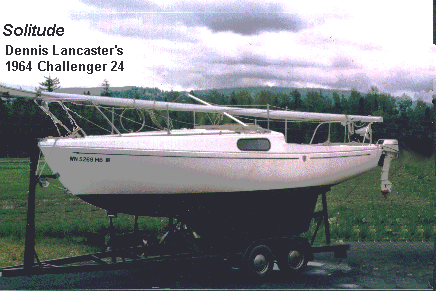 So was the Challenger the first Columbia? I used to think so, but I've come to believe that Columbia built the C-29 first and then started producing the Challenger.
Columbia produced three 24 foot models more or less concurrently. I owned a 1964 Columbia 24 with the full trunk cabin and I have been aboard Contenders and a Challenger. I believe that these three boat share essentially the same hull. The Contender and Challenger are the same up to the sheerline. Columbia extended the hull up and created the Columbia 24. The Contender is a short cabin trunk and the Challenger is a raised deck design. It wasn't until 1962 that the name Columbia came into being. Glas Laminates contracted Sparkman & Stephens to design a boat which they called the Columbia 29. The company adopted the name Columbia in '62 (or '63?), so there may still be a few Challengers out there that pre-date the Columbia name.
More information on the early Columbias. My C-24 is a fiberglass shell with a completely wooden interior structure. The Challengers and Contenders both started out this way, too, but later Columbia created a fiberglass interior for them leaving only the Columbia 24 with a scratch-built interior.
George Istok's Challenger FTP site
Contact George if you would like to contribute to the site. george@siglan.com
Patrick M. Royce, author of Royce's Sailing Illustrated Vol I, owned a Pink Cloud, a Challenger 24. The following are excerpts from his book.
"The 24' raised deck version is a better performer with less weight and less windage. The cost is less as not as much material and handwork are needed. The cockpit is large and comfortable for 6 to 8 adults where we spend most of the daylight hours at sail or at anchor. Visibility was excellant..."

"Because of the full width cabin, I am comfortable when sitting, or sleeping below."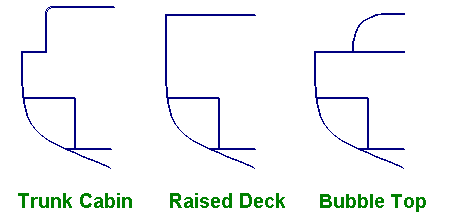 A look at the diagram explains Royce's comment about comfort. I my cabin trunk 24, the deck intrudes into the cabin, so that if you try to lean back against the side of the boat, the cabin hits you behind the head or upper back and your lower back gets no support. The raised deck design gives a straight backrest. The trunk cabin gives more headroom and space below, making it better for cruising whereas the raised deck gives better performance for the more sport-oriented sailor.
And Royce implies that the Challenger can take some weather:
"Our D/L 301 ratio Pink Cloud, was caught on a flat ocean on a beam reach with a sudden force 6 wind, the speedometer holding the 10 knot peg for an hour until reaching port."
That's it - reported like he was going down to the corner to get a newspaper.
Like most early Columbias, the Contender has a full keel with cutaway forefoot, about which Royce says, "..Pink Cloud can change tack easily in it's own length in tight moorings. The bow entry is a disadvantage when heaving to in a confused seaway."
Two other interesting notes from Royce. To combat mildew, Royce drilled 20 2" holes in various panels throughout the boat to promote airflow through storage areas. Do you think maybe he was trying to gain a handicapping advantage? The other note regards the lazerette and it's engine well. He shows a diagram of a venting system for motoring with the hatch closed without choking the engine and he advocates stowing the motor fore and aft rather than athwartships - presumably when sailing. This prevents water draining into the powerhead when the boat heels to that side.
The following are specs taken in part from Royce's book:
CCA Rating 18.3
Length Overall 24' 4"
Length Waterline 18' 0"
Beam 8' 0"
Draft 3' 4"
Displacement 3930lbs.
Ballast (lead) 1850 lbs.
Sail Area 306 sq. ft.
Head Room ?
Engineering drawings and literature available for the C-24, Contender & Challenger
Neil Calore writes:
Sheave dims. for my '65 C-24 Contender: O.D.=1-15/16", I.D.=7/16", Width=7/16", Groove is app. 3/16" deep. They are the original sheaves made of some type of fiber/resin material (might be the "Tufnol" John spoke of) & whether or not some wear should be figured in on those dimensions, I don't know.