Columbia T-23 Specifications
---
Manufactured by:
Columbia Sailing Yachts
The Columbia T-23 was one of two trailerable models produced by Columbia. The other was the T-26. The information I have from Columbia shows that there were 406 copies made between 1973 and 1977. Although these records are from the Virginia factory, they don't always match reports from owners. For example, one owner reports having a 1971 boat. It is also probable that there are gaps in the production numbers because owners report having hull numbers 416, 417, 424, 448, 452. The production plan breakdown is:

     Costa Mesa     Portsmouth
       1-100         101-200
     201-300         301-400
     401-500         501-600

401 and up were probably used by the Virgina plant.

The T-23 (1974) has an all-wood interior, including bulkheads, sole, cabinets (sink and stove), forward vee and settees; mostly plywood.

Advertisement introducing the Columbia 23.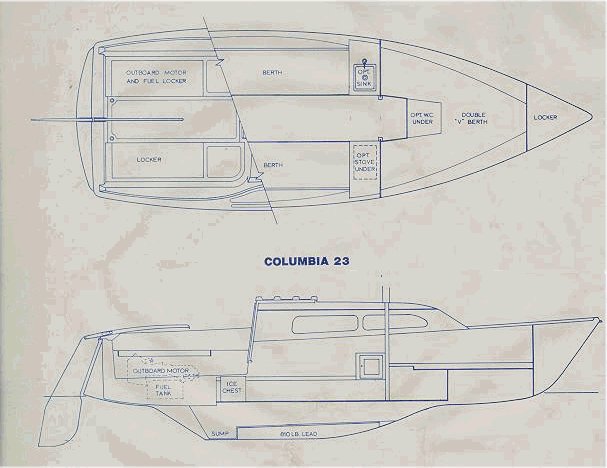 Length Overall 22' 7"
Length Waterline 20' 0"
Beam 7' 11"
Draft 1' 11"
Sail Area 218 sq. ft.
Displacement 2300 lbs.
Ballast 810 lbs.
Vertical Clearance 28' 2"
Berths 4
Water 5 gal (portable)*
Fuel 5 gal (portable)*
Power 6½ HP Outboard*
Designer Alan Payne
*Optional at extra cost.
Here are sail dimensions for a C-23 manual as listed on Sail Plan drawing C23-00-0000:

Sail        Luff    Leach     Foot    Area    Weight    Material   Remarks

Main       21' 7"   23' 6"    9' 3"    100   4 1/2 oz.   Dacron    See note 1

W. Jib     23' 5"   21' 2"   10' 0"    105   4 1/2 oz.   Dacron    See note 1

125 Genoa  24' 8"   22' 6"   13' 2"    148   4 oz.       Dacron

150 Genoa  26' 0"   24' 0"   14' 10"   176   4 oz.       Dacron


Notes 1. use bainbridge dacron with a fill to bias ratio not to exceed 1 to 4. 2. Bolt rope on main luff and foot to be 1/2" diameter. Just for kicks here are a few other tidbits on same plan: LOA = 22' 7", LWL = 20' 0", BEAM = 7' 11", DRAFT = 1' 11", DISP. = 2300 LB., SAIL AREA = 218 SQ. FT., BALLAST = 810 LB., DESIGNER = ALAN PAYNE
Literature available from Justin Thompson.
Whittaker Corp. owned both Columbia and Coronado. Many Coronado models modified Columbia models or in some cases, the same as Columbia models. Doug Ward writes:
"The Columbia 23 T & the Coronado 23 MkII were identical except for the gel coat colors & cabin windows. They were introduced in 1972 or 73 & I worked on that assembly line in Costa Mesa. I was also priviledged, along with Marvin Reid, to actually launch & test sail the 1st one off the line for the factory. (Marvin is currently managing the Dana Point Boatyard in Dana Point Ca.) It was an Alan Payne design & as far as I know, the 1st Alan Payne designed boat produced by Columbia." Doug Ward
A common question is "what happened to the molds?" It seems the T-23 keeps coming back.
Justin Thompson of Marine Info and Design discovered the Charger 23 built by Charger, Inc./Playmate Pontoon Boat Company in 1982 and 1983.
Bob Marchionni sent the following:
I received a message from John Stoner, who states the T-23 molds were bought by Robertson cabinet shop in Ocala, FL and built as the Windsong and that he has hull #2. He is rebuilding it. I did some checking and found Windsong Sailboats, Inc., of Medley, FL. That goes along with the following message:
Sailboat Trader - Florida Edition - July 31/98, page A80. "SAILBOAT MOLDS, DRASTIC PRICE REDUCTION must sell now, 23' former Columbia shoal draft, complete set of sailboat molds, includes production plan, directions, manuals, sail plan, hardware plan, etc., complete with 3 axle transport trailer to move everything to your facility. Price is slashed to move quickly, $1800, Ocala, 888-922-3663 toll free"
Any idiosyncrasies? Donald Schulte writes:
On our previous Columbia T23, there were two drains in the aft end of the cockpit that were plumbed through the transom. The trouble was that they were below the waterline when the boat heeled, and the cockpit would start to fill (rapidly!). Boy, did we get the wide eyed looks from friends who didn't realize what was going on! They thought it was time to grab a life best and look for higher ground!!
Bill Pinksten owner of Summer Dawn, hull 383, says that you can get replacement rubrail from Hamilton Marine. He says that the rail is a soft PVC channel which snaps over a rigid plastic T channel, which in turn is screw fastened over the outturned hull and deck flanges. Contact Hamilton Marine, 100 Fore Street, Portland, ME 04101, tel. 207-774-1772, (www.hamiltonmarine.com). They have exact replacements for it and will send a small sample for test fitting if requested. For the 23T the model number is DWP-232-FW for the soft outer channel and DWP-233-R for the rigid inner T channel. The soft outer channel is also available in black. The have good service with reasonable prices and a wide variety of other rub rail sections.
Justin Platt (boundless@hotmail.com) writes that if anyone needs a trailer for a Columbia T-23, Quality Trailers of Bellingham, WA has the specs for it. They custom built one for him, and have the plans on file. Contact:

  1-800-244-7842
  E-mail: qualitytrls@nas.com
  phone: 360-671-5068 fax: 360-715-8130
  VISA / MasterCard Accepted
  2030 Toledo St., Bellingham, WA, 98226

Strange Story of a Rescue at Sea.